Applications Service Engineer
Salary:
£Neg dep on exp
Location:
UK
The role will be home based attending client sites throughout the UK to install, commission and provide customer training.
Training clients will include set up, programming, use of tooling and running of their new machine(s).
They are looking for someone with at least 7 years of turning experience using Fanuc controls in both G code programming and using Manual guide I.
HMI experience would be a benefit but not essential.
The candidate must have experience cutting a variety of materials and understand tool tip selection along with speeds and feeds for the material being machined.
The candidate must be able to read technical drawings and assess the best method for producing the component taking into account surface finishes and tolerances.
Experience of multi spindle, multi turret lathes with milling capability is essential.
Knowledge of Gantry robots and barfeed loading would also be an advantage.
Knowledge of machine tool maintenance would also be an additional benefit.
The role will cover the UK and Republic of Ireland with the possibility of very occasional international visits.
This will be a customer facing role requiring excellent communication skills and patience under pressure is a must.
The candidate must have qualifications to HNC level or equivalent in a relative subject field
Contact Craig Smith: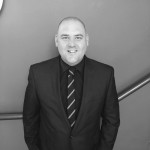 Senior Consultant
0161 443 4992